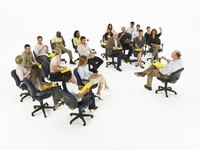 When you are driving to work and decide to take a new, faster route, you are implementing a strategy. Strategic implementation is the execution of a plan to inspire a targeted outcome.
Function
In business, strategic implementation is a process that project teams use to get a strategy off the ground. According to the My Strategic Plan website, strategic implementation turns a plan into action, so organizational goals may be achieved.
Features
There are different features of strategic implementation. Strategic implementation includes an order of operations/actions, time lines and milestones. The project budget plays a part in the implementation, too. According to the My Strategic Plan website, a 1999 cover story in "Fortune" magazine reported that 60 percent of businesses failed because they did not link their strategies back to their budgets.
Work Breakdown Structures
A work breakdown structure (WBS) is a map of all the steps that need to be taken to execute a strategic project. According to the Carnegie Mellon website, work breakdown structures are hierarchical depictions that list actions in the order in which they must occur.
Timelines
Time management is an important part of strategic implementation because so many steps must be completed with a certain time frame. As a result, project managers create implementation schedules that estimate how long each step should ideally take to determine when the project will be finished.
Milestones
Businesses use milestones to check the progress of implementation processes. If the implementation process is not where it should be by a certain milestone, it means the project is behind schedule.