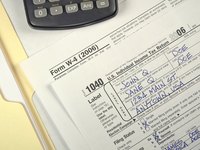 According to the Internal Revenue Service (IRS), it accepts most income tax returns as filed. However, they select some tax returns for additional examination using a process more commonly known as an audit.
Purpose
The IRS audits tax returns to determine if the items listed on the return are correct.
Process
To determine if a taxpayer made an error or evaded tax, the IRS employs an automated screening process which uses a series of indicators to determine whether a return should be selected for further examination.
Considerations
Although many taxpayers owe no additional tax as a result of an audit, a high score from the IRS's computerized system will usually result in an increase in tax liability.
Earnings
In addition to the IRS's computerized scoring system, taxpayers may also be audited if the IRS receives income information (W-2s and 1099s) which were not listed on the taxpayer's original return.
Appeals
Taxpayers wishing to appeal the IRS's audit filings should file an appeal with the IRS Office of Appeals. To do so, they should complete IRS Form 12153 and mail it to the address on the letter they received notifying them of their audit results.