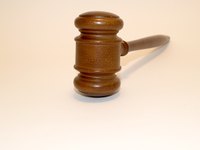 A board president's primary aim is to ensure that the nonprofit is accountable to the public. Although board position descriptions should be designed to meet the nonprofit's specific needs, there are some common duties for board presidents.
Presiding
According to BoardSource, board presidents—sometimes called chairpersons or chairs—preside over board meetings and the board's executive committee meetings. They ensure that board orders and resolutions are put into effect and that records of board proceedings are maintained and certified when necessary.
Works with Board Members
According to BoardSource, a board president calls special meetings of the board, if necessary, helps to appoint committee members and chairs, assists the nonprofit's CEO in orienting new board members and meets with board members to assess their performance.
Works with the CEO
A board president also works with the nonprofit's CEO or executive director to achieve the nonprofit's mission and facilitates a relationship between the board and the nonprofit's management. As Idealist.org notes, the board president helps the nonprofit's leadership prepare the board's meeting agendas and reviews with the CEO any issues of concern to the board. He may also act as an alternate spokesperson for the organization.
CEO Search
The board president coordinates the chief executive's annual performance evaluation and takes a prominent role when a new CEO or executive director must be hired.
Other Duties
A board president will have other duties determined by the board or suggested by the CEO or even by state law, such as being responsible for signing, in the name of the organization, documents such as deeds, mortgages and contracts.