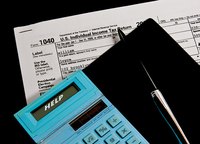 Foreclosure sales result in a mortgage deficiency when the homeowner owed more on his mortgage loan than the lender recovered through the property sale. When this occurs, the lender has the option to claim the deficiency as a tax loss and send the former homeowner a 1099.
Facts
Form 1099 is a tax form that signifies canceled debt the recipient must claim as income when he files his taxes.
Significance
Individuals who receive 1099 forms after foreclosure are often exempt from paying taxes on the debt due to The Mortgage Forgiveness Debt Relief Act, which states that debts incurred as a result of a foreclosure deficiency are eligible for tax forgiveness.
Benefits
Once a lender writes off a mortgage deficiency as a tax loss, it no longer retains the right to sue the borrower for the amount he still owes on the loan.
Time Frame
The Mortgage Forgiveness Debt Relief Act protection for post-foreclosure debts ends December 31, 2012. After this date, former homeowners will once again be responsible for paying taxes on forgiven mortgage debts unless Congress takes action to extend the Act.
Warning
Not everyone can claim tax forgiveness following foreclosure. If the foreclosed home was not her primary residence or the property was worth more than $1 million, a former homeowner may still owe taxes on the forgiven deficiency.