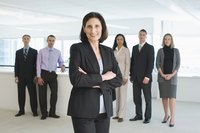 Leaders are supposed to be in charge of organizations, but the culture of an organization has tremendous weight and influence in the workplace. If leaders wish to institute change, their leadership styles must be strategically aligned to accommodate the organizational culture.
Organizational Culture
Organizational culture is a concept that describes the beliefs, attitudes, values and behaviors of an organization. These traits are developed by people in the organization who identify themselves based on similarities, like-mindedness and norms.
Leadership
Leadership is about guiding others towards a unified goal, by serving as a positive influence and using motivational tactics. In business, leaders are used to guide companies through structural, operational and procedural changes.
Types
There are many types of leadership, such as directive and supportive. Directive leadership is focused on outcomes and productivity, and these leaders give their subordinates orders. Supportive leadership is based on building relationships with employees.
Effects
Business leaders should evaluate the organizational culture before determining what style of leadership they intend to employ. This is because their leadership style can have a positive or negative impact on the organizational culture.
Benefits
According to the June 2005 issue of "Journal of Change Management," organizational culture has a lot of power within a business structure. If a leadership style goes against the grain of the organizational culture, it can be met with resistance and therefore that leader will not be effective or successful.