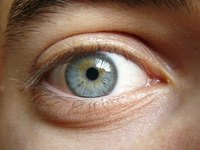 When hypothyroidism and related eye changes are present, the condition is known as Graves' disease. This condition commonly affects young women, although men and women of all ages can have Graves' disease. Knowing warning signs may help prevent long-term eye damage from hypothyroidism.
Hypothyroidism
Doctors diagnose hypothyroidism when the thyroid glands--which are located in the neck area--do not produce enough hormones. Symptoms include excessive tiredness, low concentration and weight gain.
Eye Disease
Hypothyroidism may result in dry, red eyes, and there may be changes in vision. When the disease affects the muscles around the eyes, the eyelids may not close properly, and the eyes themselves may appear to protrude from the eye socket.
Diagnosis
An eye doctor will check vision and use a special microscope to look at both the front and back of the eyes. He will determine, based on testing and examination, whether hypothyroidism is causing damage to the eyes.
Treatment
In conditions involving the muscles and surrounding tissues of the eye, surgical correction may help the outward appearance of the eye. The doctor may recommend artificial tears to help with discomfort and irritation.
Considerations
If you are a smoker and diagnosed with hypothyroidism, work on quitting cigarettes. According to Columbia University Medical Center, the risk of eye disease related to thyroid disease "is higher and more severe in smokers."