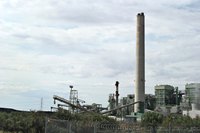 Coal-fired power plants continue to provide much of the United States' electricity. However, solar and wind power continues to get cheaper as technology advances and more orders are placed by utilities and homeowners.
Coal
In 2008, coal-fired power plants provided 48 percent of the country's electricity, according to the Energy Information Administration .

Solar
New solar cells are capable of grabbing more and more of the sun's energy. Some super-efficient photovoltaics that are emerging as of 2010, use nanotechnology and can convert 80 percent of the sun's light into electricity
Wind
Modern wind turbines are up to 10 megawatts in size. Each of these new turbines could power about 2,000 homes. Wind turbines can produce electricity at cost-competitive rates (less than 5 cents per kilowatt hour) to coal-fired power plants.

It's All Solar
Coal, wind and solar power are all possible because of the sun. Coal was originally plant matter that was trapped in a body of water for hundreds of millions of years. The wind is formed by the sun's heating of the earth, which forces warm and cool air to displace each other. In terms of efficiency, solar and wind are more efficient than coal, since it doesn't take 200 million years to make.

Lifetime Costs
An important factor regarding coal-fired power plants versus solar and wind is, with solar and wind, there are no fuel costs after the panels or turbines are erected. With coal there is always an input cost.