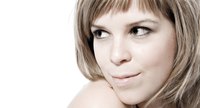 Transgender hormone therapy for a MTF (Male to Female) relies on estrogen. Hormones bring about identifiable characteristics that make a person male or female.
Voice
Hormone therapy will make a MTF's voice higher. The amount by which it raises will vary from person to person. Hormones are often combined with voice training to help a MTF achieve a female voice range.
Body Hair
Estrogen will thin body hair. Arm, leg, facial and armpit hair all will become less dense while using estrogen. It also slows baldness on the head and thickens hair that is already there.
Sexual Function
For an MTF, estrogen will decrease the sex drive and also may affect the strength, size and duration of an erection. In addition, the testicles will atrophy (shrink).
Skin Texture
The skin will become softer and less course with hormone therapy. Estrogen is believed to help heal scars and the skin will also become more elastic.
Limitations
Estrogen will not cause a MTF to have a period or give the ability to become pregnant. These two functions require a uterus, ovaries and a womb. Estrogen will not make the penis disappear.