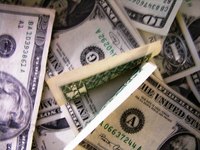 Information technology provides mass access to the stock market, while improving efficiencies. Improved information dissemination enables investors to make informed decisions. Despite these benefits, financial markets are exposed to distinct risks related to technology.
Identification
Information technology is associated with stock quotes and trade settlement. Stock tickers track volume, share prices and individual trades throughout the session.
Features
Traders on the stock exchange floor use information technology to verify stock quotes. Meanwhile, video feeds export real-time data to media and investment terminals—away from the floor. Electronic networks level the playing field between professional insiders and retail investors.
Considerations
Information technology reduces the costs of trading through competition. Bid-ask differentials, or spreads, decrease because of more entrants into the stock market. Bids are offers to buy stock, while asking prices represent offers to sell shares. Investors prefer narrower spreads, because they improve chances for trading stock quickly at a profit. Further, information technology provides for program trades. Program trades are computer algorithms designed to strip away emotion from the investment process.
Misconceptions
Despite its growth, technology cannot replace the human element. Investors gauge market psychology before placing trades.
Risks
Information technology can increase volatility. Inexperienced investors may behave irrationally, and program trades coordinated to sell at particular levels incite panic.