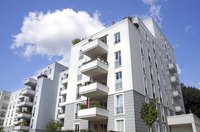 Cooperative housing is an arrangement in which an apartment building or area of land is owned by a nonprofit organization. The organization sells shares of ownership to individuals, giving them the right to live in one of the cooperative's housing units. Any fees and costs associated with running and maintaining the cooperative are divided among its members.
Co-Op History
In the late 1800s, New York City was home to the first housing cooperative in the United States.
Types of Cooperatives
There are many different types of housing cooperatives, including those for students, artists, senior citizens and people with special needs. There are also cooperatives designed to lower housing costs.
How Ownership Works
Residents in a housing cooperative do not technically own their homes. Instead, they own a share of the cooperative, entitling them to live in one of the organization's houses or apartments.
Property Management
Cooperative members elect a board of directors and have input on the policies and activities of the cooperative.
Tax Issues
As with traditional home ownership, the portion of the mortgage interest and real estate taxes paid by cooperative members is tax deductible.