Acne plagues both teenagers and adults. This condition negatively effects self-esteem and can be difficult to eradicate. One easy prevention method is a cold shower every day.
Acne
Acne is blemishes (also known as zits, pimples, whiteheads and blackheads) on the body. These blemishes are pores clogged with dirt and bacteria, becoming red, inflamed and filled with puss.
Prevention
One means of aiding in the prevention of acne is to take a cold shower every day. Accompany this routine with a long, hot bath once a week (with Epsom salts, sea salt or bubbles) to open up and cleanse pores thoroughly.
Misconceptions
A common misconception is that hot water is an effective way to kill the bacteria on your face and clean pores. However, using hot water washes away body oils, causing your skin to work harder at replenishing those oils, which may result in more blemishes.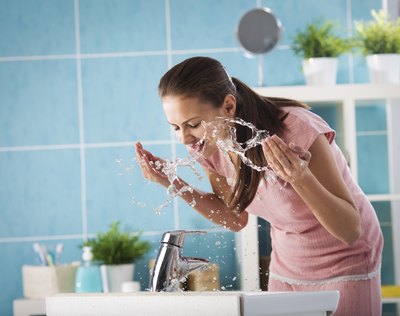 Exercise
Always take a cool shower or bath following an exercise regime of any kind. Exercise causes your pores to open up to produce sweat. A cold shower will wash away bacteria and close your pores back up after exercising to prevent the intrusion of more bacteria.
Soap
The use of soap can dry out your skin. Dry skin stimulates the glands to produce more body oils, causing more acne. Instead, use a moisturizing body wash during your cold shower and a moisturizer afterward.