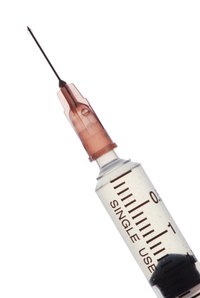 B12 is a vitamin naturally occuring in whole foods, and in that form or as supplements, has been shown to generally help metabolism. As such, it is increasing in popularity as an injected supplement, often used for weight loss. It is usually paired with adenosine, another naturally occurring biochemical compound.
B12
B12 is a naturally occurring vitamin that helps regulate the brain and the nervous system. It is also involved in the creation of blood cells and in the metabolism of nearly every cell in the body. It is found naturally in animal products like meat and dairy and is also added to fortified foods.
Adenosine
Adenosine is a biochemical compound which aids in the energy transfer process within the body's cells. It has a number of pharmacological effects. It helps reduce inflammation and can be used to treat tachycardia of the heart.
Adenosine and B12 Used Together
Clinics who administer adenosine for weight loss claim that because it works on the body's energy metabolism, it can help speed up weight loss and increase overall energy. Because some claim that B12 also increases metabolism, together they are thought to amplify the beneficial effects. The substances are often injected separately, but as part of the same overall program.
Adenosine and B12 Injections and Weight Loss
No peer-reviewed, published clinical studies prove the effectiveness of B12 injections as weight-loss aid. There are none for adenosine--in fact, adenosine is often used to reverse weight loss in cancer patients. Meanwhile, it can cause many side effects, including chest pain and cardiovascular issues.
Sources of Adenosine and B12 Injections
B12 and adenosine are not controlled substances, per se. They are popular in weight loss clinics but may not necessarily be administered by a licensed doctor. Extreme caution should be exercised when visiting such a clinic. Adenosine and B12 injections for weight loss should only be done under the supervision of a physician.