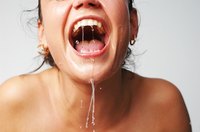 Allergies can affect many aspects of the human body, including the skin. For those who are acne-prone, an allergy might be feeding into a never-ending cycle of break outs and pimples without your knowledge.
Can Food Allergies Cause Acne?
While allergies are not a primary cause for acne, they can certainly affect it. Eating a food to which the body is allergic activates the immune system, triggering inflammation of the skin and potentially worsening an existing outbreak. The most common food allergens are milk and dairy products, eggs, peanuts, tree nuts, seafood, shellfish, soy and wheat. Some symptoms can show up hours or a day later than when the food was eaten, so pinpointing an allergy can be difficult. The acne may take even longer, lasting far beyond when the immune system has eliminated the allergen.
Treating the Breakout
To treat the skin for allergy-induced acne, many basic techniques are helpful. Scrubbing, or exfoliating, the skin is a good place to start. Clearing the layers of dead skin away with a face wash helps acne medicines and moisturizers work properly. Don't overdo it, though, since over-drying or over-stripping the face can lead to more pimples and inflamed skin. Make sure either the face wash or the moisturizer (which should be oil-free) contain at least one acne-fighting ingredient: salicylic acid, benzoyl peroxide, sulfur or resorcinol. Never pick at or pop pimples. Instead, apply spot treatments with salicylic acid to kill the bacteria and lighten the redness.
Daily Follow-Up Care
Between breakouts, it is important to keep the skin properly maintained and clean to reduce the chance and severity of recurrence. Each day, be sure to maintain a twice-daily routine of washing the face, using a toner or astringent to pick up excess oil and dirt, and an oil-free moisturizer, enhanced with an acne-fighting medicine. Two or three times a week, use a face scrub to gently remove excess dead skin.
Prevention as Treatment
Once the allergy-inducing foods have been recognized and the breakout managed, the key to preventing another occurrence is to avoid those foods as much as possible. Allergies may have other symptoms as well, like a runny nose, watery eyes, hives or rash on the skin, and sometimes more serious effects. Taking antihistamines can assist your body as it processes allergens, but avoidance is best as it prevents the immune system from fighting the battle in the first place.
Dermatologist or Allergist
To treat the acne, those with extreme cases should seek help from a dermatologist. Many are well-versed in allergy-induced acne as well as the other causes for the condition, and may be able to further advise daily care. To combat the allergies, especially for those who have many, seeing a specialized allergist can be beneficial. Allergists can run ELISA Food Allergy Panels to determine all the foods that are causing reactions to the skin, since they measure the immune system's response to more than 100 types of food. In extreme cases, allergists may offer allergy shots or alternative treatments to help a patient manage difficult allergies.