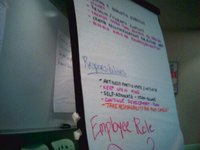 Performance management is part of systems theory in organizations. It means that employee performance is managed and developed through interrelated dynamics.
Systems Theory
The theory of a systems approach begins with systems thinking. According to Peter Senge in the book "Fifth Discipline" (1990) an organization is comprised of many parts. The organization is a whole and its various departments are subsystems within it.
Explanation
For example, an atom is a whole but its various components of neutrons, electrons and protons are subsystems dependent on each other for existence and function. The atom cannot exist without its components; the components cannot exist without each other.
Performance Management
According to Senge, systems theory is characterized by five principles - personal mastery, shared vision, mental models, team learning and employee identification. These principles are employee oriented, meaning each is determined and shaped by employee performance, motivation and behavior.
Performance Management and Systems Thinking
Organizational management has to evaluate performance, job responsibilities and functions from a systems point of view. They cannot be measured independently, or in a corporate vacuum. An employee's performance in the marketing department is influenced by the actions and decisions of the finance department. The performance of front-line employees is influenced by human resources and finance policies.
Performance Management Systems Theory
Employee job descriptions have to be outlined knowing that performance will be influenced by other departments.