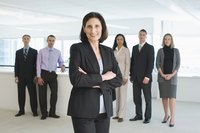 Key performance indicators (KPI) are "critical success factors" that are crucial for the continued success of a business or any organization, according to Rémy de Bernardy's visitask.com. Sales revenue is almost always one of the main KPI variables.
Significance
Key performance indicators must be aligned with the specific goals and objectives of an organization. For example, a large university would likely consider the number of students who graduate one of its primary KPIs.
Function
A key performance indicator must be quantifiable. The goal must be stated in concise terms and capable of being measured. A time frame must also be established for all key performance indicators, with key checkpoints at various intervals.
Types
Companies or organizations usually create key performance indicators for the various departments within their establishment. For example, overdue accounts may be a KPI for the finance department, while market share is a more germane KPI for marketing.
Other Types
Other types of key performance indicators are productivity among workers, customer satisfaction, lead conversion rates, stock performance, employee turnover, budget performance and virtually any other variable that is crucial to the organization's success.
Benefits
The main benefit of keeping tabs on key performance indicators is that it keeps the entire organization working toward common goals. People work only on meaningful projects and eliminate useless activity. A company is also more likely to accomplish its objectives if it has clearly defined them.