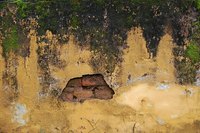 The body's reaction to allergens can differ for each individual. However, a generalized list of symptoms can help pinpoint the source of the reaction, such as exposure to black mold. It is also important to be able to properly identify black mold in order to treat and prevent symptoms.
Identification
Black mold, or Stachybotrys chartarum (atra), has a dark green or black appearance. It will feel slimy until it has dried on the surface. Black mold prefers materials in your home that are cellulose based, such as wall board, ceiling tiles, wall paper, carpet and insulation.
Clues
Early signs that black mold may be present include a musty smell in the building and the onset of health problems--specifically respiratory--following a move into a new building or one where a flood occurred.
Symptoms
There are many symptoms that point to black mold exposure. Generally not all symptoms will be apparent, and often the symptoms will change over time. Symptoms that the black mold spores have entered the body include increased respiratory problems, continuous sinus infections and sore throat, flu-like symptoms, rash, fatigue, numbness and tingling, night sweats, red or burning eyes, sensitivity to light, and abdominal pain.
Causes
Areas with high humidity, are damp or that have been flooded are prone to black mold growth. These can include bathrooms, basements and windows. Areas that have been exposed to leaks from pipes and holes in the roof are also vulnerable.
Prevention/Solution
Small amounts of black mold can be cleaned with bleaching powder and soap and water. Large amounts should be cleaned with bleach or other hard surface cleaning materials. Black mold can be prevented by identifying probable areas of growth and cleaning them thoroughly.
Warning
Continuous exposure to black mold spores can lead to toxic poisoning. The mold will then begin to affect the nervous system, causing headaches, dizziness, inability to concentrate and decreased attention span.