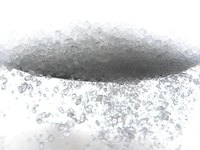 Sea salt generally refers to any kind of salt that is harvested by evaporating water from an ocean or sea and in common usage refers to culinary table salt. Epsom salt is also found in seas and oceans but is generally not referred to as "sea salt." There are many differences between the two substances.
Chemical Composition
Epsom salt and sea salt differ in their chemical composition. Epsom salt is magnesium sulfate. Sea salt is sodium chloride.
Taste
Most people enjoy the flavor of sea salt and use it in cooking, baking and sprinkled on food. Epsom salt is not generally used to flavor food because it has an unpleasant taste and is a strong laxative.
Uses
Sea salt is predominantly used for culinary purposes. Epsom salt has various applications, including water softening, as a bath soak, as a laxative and as a plant supplement when gardening.
Nutrition
Epsom salts contain high levels of magnesium, a mineral that most Americans are deficient in, according to the National Academy of Sciences. Unrefined sea salt contains minerals, including iron, calcium, potassium, zinc and iodine.
Appearance
Both sea salt and Epsom salt are usually pure white and available in a variety of textures from extra fine to coarse grains. Some varieties of gourmet sea salt may be grey or pink.