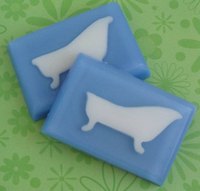 Soapmakers measure the acidity or alkalinity of bath soap by its pH level on a scale of 0 (acidic) to 14 (alkaline). Substances at either end of the scale, such as sulfuric acid and lye, are harmful to skin.
pH Levels
A 2002 International Journal of Dermatology study found pH levels in bath soaps ranging from 3.61 to 12.38. High-pH soaps caused the most irritation.
Significance
Human skin's pH is a naturally acidic 5. The "acid mantle" that covers us is dissolved by high-pH products.

Types
Liquid soaps generally have lower pH levels than bar soaps. A a 2009 Journal of the European Academy of Dermatology and Venereology study recommends liquid cleansers for bathing infants.
Controversy
Although the word "pH-balanced" abounds in advertising to indicate bath soaps with a chemically lowered pH close to 5, natural product makers counter that it is the purity of the ingredients—not the pH—that makes a bath soap kind to skin.

Safety
Home soapmaking guides warn hobbyists to test the pH level of their soaps before use. Soapmakers test for safety by using paper or plastic pH test strips, phenolphthalein drops, or even a tongue taste test.