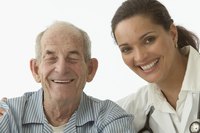 The fee schedule is how Medicare calculates payments for "fee for service" health-care providers. Medicare defines this to include doctors, ambulance services, clinical laboratories, and providers of medical equipment and prosthetics. These payments are covered under Part B of the Medicare program.
Relative Value Unit
On its website, the Centers for Medicare and Medicaid Services (CMS) describes how the doctors' fee schedule works. The first step is setting the relative value unit for a given service. The work RVU measures the time and effort involved in providing a service. Half of the Medicare payment amount is based on the work RVU, CMS says. The formula adds more RVUs to reflect the overhead of running a practice or a business, plus the cost of malpractice insurance.
Geography's Effect
Doctors may set their fees very differently in different parts of the country. Medicare takes this into account, which is why the fee schedule varies between communities. Medicare adjusts the RVU calculations according to the costs of providing a service or running a practice in a particular location. A general practitioner in a rural area, for instance, doesn't have the same office expenses as a doctor who practices in one of New York City's pricier districts.
Conversion Factor
Once the government adjusts the RVUs for location, it then multiplies the result by a conversion factor. This figure is set by statute and updated every year. The CMS says the factor takes into account inflation in medical services, growth in the economy and other economic elements. Multiplying the adjusted RVU by the conversion factor gives a set dollar amount. This represents the maximum Medicare will pay for a given service in a given location.
Medicare Assignment
Most doctors who accept Medicare payments also accept what Medicare calls "assignment." This is an agreement to take the amounts allowed under the fee schedule as total payment. You still have to pay the deductible and any coinsurance payment, but otherwise Medicare handles everything. Some doctors accept assignment for all Medicare work, while others only agree to it for certain services. The Medicare website recommends you ask doctors ahead of time if they accept assignment.