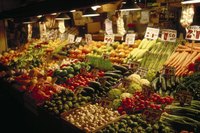 Proper moisture content is essential for maintaining fresh, healthy foods. If a food is too moist or too dry, it may not be suitable to eat and will not taste as good as it would if it had the correct moisture content.
Freshness
Fresh, ripe fruits and vegetables are moist to the touch. As they age and begin to rot, some dry out and some pick up excess moisture and begin to mold.
Labeling
Food industries require a minimum or maximum percentage of moisture on certain foods in order for them to be packaged and labeled. If they don't fit to these standards, the foods cannot be sold.
Cost
In processed foods, the percentage of water in a product can determine its final price. Generally, a product with more water will cost less.
Processing
Biologists and manufacturers need to know the moisture content of food to ensure that it's processed and packaged in a safe, stable way.
Quality
Moisture content determines the way most foods taste, feel and look. It is one of the important ways to measure food quality.