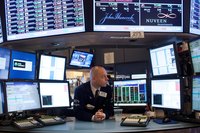 Buy stock prices (the bid) and sell stock prices (the ask) represent two-sides of a financial transaction. The essence of an open financial market starts with these two opposing terms.
Buy Prices
The bid stock price represents an investor's willingness to pay a certain amount to purchase a stock. The buyer stipulates how many shares she wishes to purchase at the bid price.
Sell Prices
The ask price represents the amount a seller will accept from a buyer to purchase his stock. The seller also indicates how many shares he has available at the ask price.
The Spread
The spread represents the difference between the bid and the ask stock prices. A number of factors influence the spread including the float (total number of available shares to trade), demand in the stock and the stock's trading activity.
Example
Investor "A" has a bid of $11.45 x 1000 shares for stock XYZ, while Investor "B" sets his ask price at $11.45 x 800 shares. Investor "A" buys the 800 shares from Investor "B" and seeks the 200 additional shares elsewhere.
Invisible
The negotiations happen invisibly to the investor. The activity gets performed on a trading floor between traders of each security.