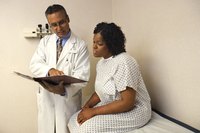 Diatomaceous earth is a soft, crumbly organic sedimentary rock, mostly silica, that is created from the fossilized remains of diatoms--unicellular algae with a cell wall of silica dioxide. There is both saltwater and freshwater diatomaceous earth.
Use as an Absorbent
Diatomaceous earth is widely used for its absorbent abilities. Industrial uses include liquid filtration; liquid absorption, including toxic chemical spills; and research in blood clotting. DE is also marketed as an ingested toxin absorber, known as Fossil Shell Flour, that targets the gastrointestinal system.
Candida and Diatomaceous Earth
The yeast infection known as Candida is difficult to clear out of your system; it can take months, even years. According to the Candida Yeast Infection Relief website, freshwater diatomaceous earth may be helpful because it pulls apart and destroys the Candida organisms that it comes in contact with in your gastrointestinal system and helps absorb and safely eliminate the toxins caused by Candida.
Fossil Shell Flour
An ingestible form of diatomaceous earth, Fossil Shell Flour is a water-soluble powder made only from freshwater diatomaceous earth, which means it absorbs better and has a lower crystalline silica content than saltwater diatomaceous earth. Saltwater DE, with its high crystalline silica content, is not recommended for internal use.
How Fossil Shell Flour Works
According to Perma-Garde, a manufacturer of Fossil Shell Flour, and Diatomite Canada, its marketer, Fossil Shell Flour DE, taken orally, passes safely through your gastrointestinal system and helps absorb toxins generated by bacterial, fungus or parasitic infections, and gets rid of chronic yeast infections, such as Candida.
How to Take Fossil Shell Flour
Perma-Garde and Diatomite Canada recommend taking a small amount, no more than a tablespoonful, of Fossil Shell Flour. It should be taken once a day with a glass of water to help detox your system and deal with a Candida yeast infection.