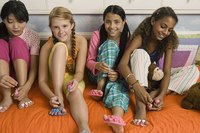 Age appropriate use of nail polish and other cosmetics is a combination of the child's cognitive ability and parental discretion. However, many nail polishes have toxic chemicals. Neither adults nor children should use these nail polishes. However, several manufacturers have created nail polishes that are safe for children and adults.
Ages At Which Children May Use Nail Polish
The best age to allow children to use nail polish is when they are past the thumb-sucking stage. Children usually stop sucking their thumbs between the ages of 4 and 5.
Toxins In Nail Polish
Nail polish is appropriate for children to wear if it is applied under adult supervision. . However, parents need to be careful about nail polishes because some have dangerous chemicals. Modern nail polish originated as a by-product of car paint in the 1920s and was first sold in department stores in 1937.
Toluene
Toluene is used as a solvent to create a smooth polish. This chemical can cause nausea, dizziness, and headaches. It is a possible reproductive and developmental toxin that has been linked to liver and kidney disorders as well as a higher rate of miscarriages.
Dibutyl Phthalate and Formaldehyde
Dibutyl phthalate is used to prevent nail polish chipping. This has been associated with creating hormonal imbalances in children and birth defects. Formaldehyde hardens the nail polish. This chemical can cause cancer.
Alternatives To Toxic Nail Polishes
There are alternatives to toxic nail polishes. The ingredients used in natural nail polishes return to ancient recipes for cosmetics. Manufacturers currently use minerals, such as mica and iron oxide, in a water solvent for sparkle. These natural ingredients are healthier for children to wear.