Fish oil is the primary source of two essential fatty acids -- eicosapentaenoic acid, or EPA, and docosahexaenoic acid, or DHA -- that affect the health of your heart and brain. They also affect the way cells function and help prevent the type of inflammation that contributes to chronic diseases. Men need fish oil because it helps lower the risk of a heart attack, fights prostate cancer and may even boost athletic performance.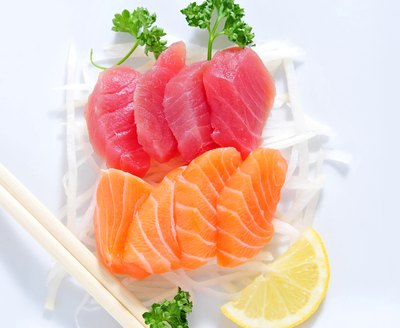 Promotes Heart Health
Heart disease is the leading cause of death for men in the United States, reports the Centers for Disease Control and Prevention. (Ref 2, 1st bullet) Omega-3-rich fish oil can help reduce your risk of cardiovascular disease by fighting inflammation, lowering blood pressure and reducing levels of triglycerides. (Ref 1, para 2)
Getting the recommended amount of fish oil is vital for men at all ages, but you may be surprised to learn it even benefits healthy young men. When 23-year-old men took fish oil supplements for three months, their triglycerides went down and levels of high-density cholesterol went up, according to a study in Metabolism in August 2013. (Ref 3, para 4) High-density cholesterol, or HDL, is known as the good cholesterol because it helps carry cholesterol out of the bloodstream.
May Keep Prostate Cancer From Returning
A review in the Journal of the National Cancer Institute in July 2013 reported that men with high blood levels of omega-3 fatty acids may be at a higher risk for prostate cancer. An article from the Harvard Medical School discussing that report emphasized that omega-3s in fish oil are still essential and that eating fish was a good diet strategy.
While you can safely get omega-3 fatty acids by eating fish, men should consult their doctor before taking fish oil supplements.
On the positive side, fish oil taken under medical supervision may prevent a recurrence of prostate cancer. When men diagnosed with prostate cancer followed a low-fat diet and took fish oil supplements, biomarkers predicting a recurrence were lower compared to men who did not take fish oil, according to Cancer Prevention Research in October 2013.
Improves Athletic Performance
Omega-3 fatty acids in fish oil may boost aerobic performance by lowering the amount of oxygen used during intense activity. In one study, oxygen use was measured in men during cycling, then half the men took fish oil supplements, while the other half took a placebo supplement.
After eight weeks of supplementation, the fish-oil group had higher levels of omega-3s in red blood cells and, when both groups took the cycling test again, the fish-oil group consumed less oxygen, reported Bioscience, Biotechnology and Biochemistry in August 2014.
Recommendations and Warnings
To get the omega-3s they need, healthy men should eat two servings, or a total of 7 ounces of fish weekly, recommends the American Heart Association. Fish that contain the most omega-3 fatty acids are salmon, mackerel, canned tuna, trout, halibut and bass.
If you have cardiovascular disease or need to lower blood levels of triglycerides, you may need more fish oil than you'll get from two servings of fish.
Talk to your doctor before taking supplements if you have liver disease, diabetes, depression, bipolar disorder or a compromised immune system. Fish oil supplements can also interact with medications, especially those used to treat high blood pressure, so consult your health care provide if you take any prescription medications.