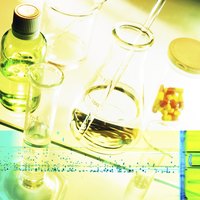 It's no surprise that magnesium is an important mineral for nerves, muscles, bones, and heart health. Confusion can enter the picture, though, when you try to decide which form of the mineral to take. Magnesium oxide? Gluconate? Citrate? Malate? What about magnesium chloride?
Available Forms
Magnesium chloride is available in tablets, capsules, bulk powder, liquid, transdermal oil, and magnesium flakes or salt for the bath.
Easily Absorbed
The main advantage of magnesium chloride is that it doesn't require additional hydrochloric acid in the stomach to enhance its absorption. This feature is especially beneficial for anyone who naturally produces insufficient amounts of hydrochloric acid or who uses various antacids to suppress the production of it.
Magnesium Oil
Super-saturated magnesium chloride suspended in water is known as magnesium oil, and it is readily absorbed when applied transdermally. Simply spray the solution several times onto the skin and gently rub it in.
Avoid the Laxative Effect
According to Carolyn Dean, M.D., and author of "The Magnesium Miracle," large doses of magnesium consumed orally can have a laxative effect. Fortunately, the transdermal method is a highly efficient way to take it while bypassing the gastric system to avoid this problem.
In the Bath
The combination of steamy hot water and magnesium chloride helps remove toxins from the body through significantly increased circulation. A relaxing soak in magnesium chloride also helps settle down painful and inflamed muscles after overexerting them. A good product to try is Swanson Magnesium Chloride Flakes available at swansonvitamins.com.