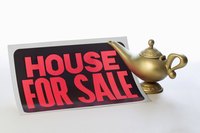 Many homeowners find that they simply cannot afford to make their mortgage payments due to unforeseen financial circumstances. But they can avoid foreclosure by negotiating a short sale or a short payoff.
Definition
A short payoff or short sale is when a home is sold for less than the balance of the mortgage. The proceeds are then used to pay off the mortgage leaving a "short" balance. A short sale can affect the borrower's credit score since the lender does not receive full repayment. A short payoff can save a credit score by allowing a borrower to repay the outstanding short balance over time.
Option
A short payoff or short sale might be considered when a layoff or other financial reasons make it impossible to continue making regular mortgage payments.
Considerations
Your lender may agree to a short sale or short payoff to avoid the high costs of foreclosure.
Warning
This type of sale will show up on your credit score since the lender eats the "short" balance. But it may be the only choice for those who cannot afford the mortgage any longer.
Credit
Those with great credit can protect it with a short payoff. The borrower agrees to pay the "short" balance by signing a promissory note to the lender.