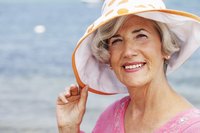 Alpha hydroxy acid (AHA) and glycolic acid—two ubiquitous terms in anti-aging skincare—are common ingredients in cosmetic skin treatments and products.
Identification
AHAs include a family of naturally occurring, organic acids derived from fruit, milk and sugar. Glycolic acid, commonly used AHA in antiaging skincare, is one type of AHA.
Uses
Johns Hopkins Cosmetic Center reports that AHAs yield younger-looking, radiant skin with a smoother texture and more even-toned color. Chemical peels use professional-strength concentrations of 40 percent to 70 percent to reduce fine lines and improve overall skin condition.
How It Works
Johns Hopkins confirms that AHAs, specifically glycolic acid, exfoliate the skin by loosening the glue-like substance binding superficial (outermost surface) skin cells, and sloughing off dead cells to reveal a fresh layer of skin. Higher concentrations produce more dramatic results.
The "Other" AHA
Lactic acid is the other, milder AHA, fermented from milk. Mild chemical peels and skin treatments for replenishing and hydrating the skin use lactic acid.
Side Effects
While Johns Hopkins reports that glycolic acid has a "good safety profile," the U.S. Food and Drug Administration (FDA) reports that AHAs have caused redness, swelling, crusting, and skin irritation and discoloration, as well as significantly increased sensitivity to the sun.