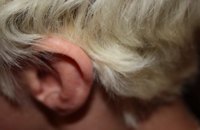 Hair loss is a genetic disposition that strikes at the heads of young and old, and once it starts occurring it is very difficult to interrupt the hair thinning process. Many people try to counter the effects of hair loss through methods such as inversion therapy.
Meaning
According to the Encarta dictionary, inversion means to reverse the arrangement of something, or to turn something to the opposite of itself. Inversion therapy is the attempt to reverse hair loss by inverting the victim.
Belief
Hair loss is said to sometimes be caused by shrinking capillaries in your scalp that reduce blood flow, hindering growth, Inversion is thought to reverse this effect, based on the notion that physical stimulation of blood flow to the scalp will cause regrowth.
Controversy
Doctors believe that inversion therapy is useless. Hair loss is caused by a genetic disposition, and encouraging blood flow isn't going to change that.
Method
Some people use gravity boots by which they hang upside-down from their ankles from a mounted rack. Most prefer an inversion table, which is similar to a massage table without the hole, with an adjustable inversion angle.
Other Solution
Some also try shampoos that contain a drug that the user hopes will promote hair growth.