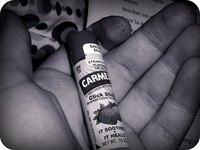 Cracked lips occur where the lips chap and separate into small cuts. Dry winters, however, aren't the only cause for cracked lips. They can arise from a variety of sources.
Drug Reaction
Cracked lips can be a side effect of some drugs. According to Skinsight.com, the following can be causes: retinoids, lithium, chemotherapy drugs, d-penicillamine, isoniazid, phenothiazine and high doses of vitamin A.
Outside Elements
Environmental conditions such as cold, windy weather can quickly cause dehydration to occur. Drink lots of fluids to help combat a winter dry spell.
Licking Lips
Licking your lips is a nervous habit that causes chapped and cracked lips. When the saliva evaporates, it leaves your lips drier than before.
Allergic Reaction
The ingredient propyl gallate found in lipstick can cause an allergic reaction. Also, sodium lauryl sulfate in toothpaste can cause chapped lips.
Snoring
If you snore throughout the night that means air is constantly blowing across your lips. This will dehydrate your lips.