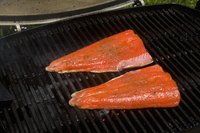 Omega-3 is a commonly known fat labeled as "good" because getting enough of it is essential to your health. Omega-7, on the other hand, is somewhat of a new kid on the block where fat is concerned. Researchers uncovered this class of omega fats recently and are focusing their efforts on evaluating its effects on health. Based on the currently published body of data, omega-7 fat appears to offer health benefits, some of which are similar to those of omega-3.
What They Are
Omega-3 is a type of fat found in rich amounts in fatty fish and is linked with reducing inflammation and promoting heart health. It belongs to a class of fats known as polyunsaturated. While the benefits of omega-3 fats are well-established, omega-7 is a relatively newly uncovered class. The most common omega-7 fat is palmitoleic acid, which is a monounsaturated fat. Along with polyunsaturated fats, the monounsaturated variety are considered health-promoting.
Omega-3 and Health
Your body needs omega-3 fats for proper growth and development, and you must get them from your diet because your body is unable to produce them. In addition to anti-inflammatory properties, omega-3 fats may reduce cholesterol, lower blood pressure and protect against chronic diseases such as cancer and arthritis. Your brain needs omega-3 for memory and overall cognitive function. If you don't get enough omega-3, you may experience symptoms like fatigue, dry skin, mood swings and memory problems.
Omega-7 and Health
Just like omega-3s, Omega-7s appear to have a favorable effects in adults with high cholesterol, according to a human study published in the Journal of Lipidology in the November/December 2014 issue. Taking palmitoleic acid for 30 days significantly reduced triglycerides and a bad form of cholesterol known as low-density lipoprotein, according to the study. At the same time, it raised high-density lipoprotein -- a good form of cholesterol.
Research into the health benefits of omega-7 fat is in the early stages, but animal data indicate it may play a role in energy balance. Palmitoleic acid intake increases feelings of fullness and stimulates the release of appetite-suppressing hormones in male rats, according to the June 2013 issue of the journal Appetite. In a separate animal study, palmitoleic acid increased the breakdown and release of stored fat for energy, according to the results published in the November 2013 issue of the American of Physiology Endocrinology and Metabolism.
Dietary Sources
Rich sources of omega-3 fats are salmon, mackerel, lake trout, herring, sardines and tuna. A plant source of omega-3 fats is found in certain vegetables, seeds and nuts like flaxseed oil, canola, soy and walnut oil. However, the type of omega-3 found in fish is most strongly linked to heart-health benefits. The recommended dietary intake for adults is 1.1 to 1.6 grams per day. This can easily be met by having one or two servings of fish per week. Omega-7 is found macadamia and olive oil, as well as certain fish such as salmon and anchovy. Governing bodies have yet to set a recommended intake.