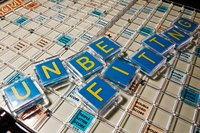 Words communicate your vision to colleagues, customers, shareholders, and the media. This doesn't mean you should memorize all the "right words" in the dictionary. Just believe in your own message. When your words reflect your sincerity, people will listen.
Five Key Everyday Business Words
Mom was right. "Please" and "thank you" convey respect and appreciation. Say "sorry" if you were rude, or wrong about something. Humility denotes strength. When you say "yes," walk the walk. It's wise to say "no" when you need to.

Why?
Organizational delays, wastage, and redundant procedures are identified and rectified when people ask "why?" at the right time.
Trust-building Words
Jennifer Roney of Pepperdine University cites a situation where a Polish manager asks an American investor if the company they were considering to set up would be "profitable" or "honest" (see references). The American's response--both--took the discussion forward.
Winning Words
In "Use Winning Words to Get What You Want" (see references), Laurie Puhn presents two outcomes.
"Foot-in-mouth comment (to vendor): 'Is that your final price? Well, it's just too much. Thanks anyway.'"
"Persuasive speak: 'Look, I want to hire you for the job, but I have another estimate that's $100 less. If you can beat that price, you've got the job.'"
Powerful Words to Avoid
Avoid cliche phrases. Classic example: "Think outside the box." Ugh.