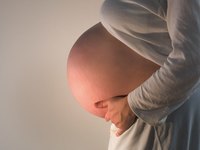 Levels of the hormone hCG, human chorionic gonadotropin, climb during pregnancy. It can be assessed through blood tests sent to a laboratory. hCG tests may be either qualitative or quantitative depending on the purpose of the test.
hCG in the Body
During pregnancy, the placenta produces hCG which metabolizes into a mother's bloodstream. hCG is also present in negligible levels in women who are not pregnant--this is caused by the pituitary gland.
Qualitative Tests
A qualitative hCG blood test gives a simple "yes or no" answer. Blood serum is mixed with a special enzyme that causes a color change in the test tube when pregnancy has occurred.
Quantitative Tests
Quantitative hCG tests measure the specific level, in mIU/mL (milli-International Units per milliliter), of hCG present in the bloodstream.
Qualitative Test Purposes
A qualitative test may be administered to confirm pregnancy. They are also given to ensure a woman is not pregnant before starting potentially harmful medical treatments or surgeries.
Quantitative Test Purposes
Women who have had miscarriages or ectopic pregnancies may be given weekly quantitative blood tests to ensure the pregnancy has completely resolved. Quantitative tests are also given early in pregnancy to determine viability, as anembryonic (blighted ovum) pregnancies and ectopics produce lower hCG levels.