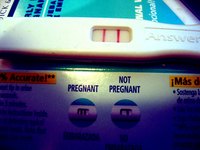 It is medically impossible to menstruate during a viable pregnancy. Shedding the lining of the uterus is, by definition, menstruation. Many women experience complications that cause vaginal bleeding mistaken for a menstrual period.
Misconceptions
Many women believe that you can have your period during pregnancy. The Providence Health & Services of Portland Oregon websites states that "…pregnancy and menstruation cannot exist simultaneously."
Miscarriage
Vaginal bleeding during the first 20 weeks of a confirmed pregnancy is a sign of miscarriage. Bleeding due to miscarriage can occur with or without cramps. A blood test and ultrasound can confirm a pregnancy loss.
Implantation
Vaginal bleeding can occur when a fertilized embryo implants itself onto the wall of the uterus. This happens around the time a woman expects her period, about two weeks post-fertilization.
Placenta Previa
Sometimes, the placenta forms over the cervix. This condition, called placenta previa, can cause severe vaginal bleeding. This dangerous condition can cause maternal hemorrhage and potential death of the mother and baby. Placenta previa can occur at any stage of pregnancy, and bed rest is necessary.
Ectopic Pregnancy
The uterine lining will shed during an ectopic pregnancy. An embryo that implants outside of the uterus, usually in the fallopian tubes, will not develop into a viable pregnancy. Vaginal bleeding can be an early symptom of ectopic pregnancy. This is a medical emergency; the fetus must be removed to prevent the fallopian tube from bursting. A ruptured fallopian tube can cause maternal death.