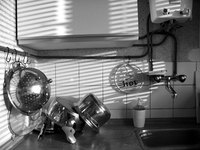 Concerns continue to grow regarding aluminum cookware and the hazards that it poses to our health and safety. Aluminum is naturally found all over the earth, and in extreme abundance. Since it can be found in water, air and soil, it is also in many things that we eat. Researchers are discovering that too much aluminum ingestion can lead to illness and that the use of aluminum cookware may only be making matters worse.
Leaching
When acidic foods are cooked inside aluminum cookware there is potential for leaching (aluminum particles leaking into the food). In fact, Environment, Health and Safety Online reports that such leaching can amount to as much as three to six milligrams of aluminum for every 100 grams served.
Alzheimer's Disease
In The Nutrition Desk Reference, author Robert H. Garrison noted that Alzheimer's patients have abnormally high levels of aluminum in the tissue of their brains. This increase was been noticed after aluminum cookware came on the market.
Behavior
Analytical Resource Labs reported that the aluminum that is leached from aluminum cookware, and later ingested, can affect behavior. Memory loss, confusion, disorientation and kidney dialysis related dementia have all been linked to aluminum.
Something to Think About
If you just can't seem to part with your aluminum cookware, Hillel J. Gitelman author of the book "Aluminum and Health: A Critical Review," stated that adequate amounts of fluoride, calcium and iron in the body may actually help to reduce aluminum absorption. On the other hand, too much Vitamin D in the body can aid absorption.
Fire and Burns
The U.S. Product Safety Commission has announced that the use of aluminum cookware on the stovetop over high heat can cause the aluminum to melt. When the cookware is picked up, the molten aluminum metal can drip onto the user, causing burns. Aluminum that becomes too hot is also susceptible to fire.