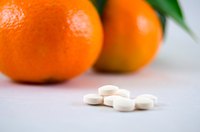 Bioflavonoids are natural substances found in citrus fruits, black currants and rose hips. While they are not essential nutrients, bioflavonoid supplements are taken to treat certain conditions including hemorrhoids, chronic venous insufficiency, osteoarthritis, nosebleeds and leg ulcers. Although bioflavonoids found in food are safe, if you take them as a supplement, there are potential side effects, so they're not recommended for everyone. Consult your doctor before taking any over-the-counter supplement.
Bioflavonoid Side Effects
Side effects from taking bioflavonoids may vary and do not always require medical attention, according to Drugs.com. If you're concerned about the symptoms you are experiencing, call your doctor immediately. Common side effects associated with bioflavonoid supplementation include blurred vision, dizziness, ache or heaviness in the legs, headache, nervousness, swollen feet, ankles or knees, pounding in the ears, itchy skin around damaged veins, red or scaly skin or a change in heart rate.
Medication Interactions
You should not take bioflavonoids if you are taking calcium channel blockers or tamoxifen. Calcium channel blockers, such as nifedipine or diltiazem, are medications used to manage high blood pressure, angina or an irregular heartbeat. Bioflavonoid supplementation may increase blood levels of calcium channel blockers, requiring a decrease in dosage. Taking bioflavonoids with tamoxifen, a medication used to treat breast cancer, may decrease its effectiveness.
If You're Pregnant or Nursing
If you're pregnant or nursing, you should not take bioflavonoid supplements because it is not known how these supplements affect your baby. The New York University Langone Medical Center warns that bioflavonoid supplementation in pregnant women may increase risk of infant leukemia. While the evidence for safety and harm on pregnant women and their babies is limited, precaution is still recommended.
Bioflavonoid Supplement Safety
Bioflavonoids are sold as an herbal supplement, and dosages are determined by the manufacturer, not the Food and Drug Administration. While herbal supplements like bioflavonoids are regulated for purity and proper labeling by the FDA, they are not held to the same standards as prescription medications and may contain countless other ingredients.
Get Your Bioflavonoids From Food
If you want to increase your bioflavonoid intake without the concern for potential side effects, you may be better off getting them from the food you eat. Making citrus fruits, such as oranges, grapefruit or lemons, a regular part your day is an easy way to up your bioflavoniod intake. You can also add bioflavonoid by sprinkling parsley on your food. Drinking black tea can help you get more bioflavonoids in your diet as well. Other food sources include blueberries, cranberries and onions.