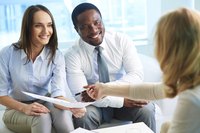 Homebuying requires a lot of research. Not only do you have to find the right home, but if you're like most prospective homeowners you also need to find a mortgage lender. You should compare lenders and their loan programs as you would homes for sale. Shopping around helps ensure that you get the best deal. Credit unions and banks offer home loans, but these distinctly different lenders each come with their own pros and cons. Credit unions are nonprofit organizations that cater to a limited number of customers, or members, and banks have investors that dictate mortgage options.
Credit Unions Take Fewer Risks
As not-for-profit organizations, credit unions have less tolerance for risk than big banks. This makes banks and mortgage brokers that offer bank mortgage programs a better option for applicants with low credit scores and small down payments. Credit unions also don't generally offer subprime mortgages with lax income and credit requirements, or exotic loan programs that increase the loan balance over time, such as negative amortization loans. Credit unions typically offer a traditional menu of loans, such as 30-year fixed loans and adjustable-rate mortgages, or ARMs.
Credit Unions Can Tailor Their Loans
Credit unions can make more attractive loans than banks can. To suit their members, they have more flexibility in developing mortgage programs than banks do. Banks make loans based on investor expectations. Unlike banks, credit unions keep most of the mortgages they make. Because they don't plan to sell their mortgages to investors on the secondary mortgage market, their loans can cater to the needs of their clientele, rather than the needs of investors. This might mean unique programs not offered anywhere else, such as ARMs with a one-time, 15-year adjustment period, which is five years longer than the ARMs typically offered at banks.
Bank Loans Offer More Options
Banks tend to offer more loan types than credit unions. For example, a bank is more likely to offer government-insured loans, which are widely used among lower income buyers. The Federal Housing Administration and the Department of Veterans Affairs insure loans that approved banks make, providing the lenders with a safety net if the loans end up in default. Banks more readily offer a vast array of mortgage features that result in lower payments, such as interest-only, 2-, 3-, 5-, 7- and 10-year adjustment periods on ARMs, as well as the traditional 15- and 30-year fixed-rate programs.
Making the Decision
The decision between a credit union and a bank comes down to your individual financial qualifications. The stronger your credit, income and down payment, the more mortgage options you have available. Both credit unions and banks compete for prime borrowers' business by offering low interest rates and competitive closing costs. Your options are limited when you have poor credit, a high debt load, and either no down payment or an amount less than 20 percent. In these cases, your only option may be a bank that offers government-backed loans or loans developed for low-income borrowers.