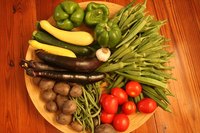 The Rave Diet was created by Mike Anderson after watching family and friends suffer from disease. Deciding that there had to be a better way to live, he embarked on two years of research and formed the principles of the Rave Diet and Lifestyle.
Facts
The Rave Diet is a low-fat diet based around whole, unprocessed foods. It is not only vegetarian but vegan, meaning it includes no animal products of any kind.
R.A.V.E.
The "rave" part of the name is an acronym for the four most important aspects of the diet. They are: no refined foods, no animal foods, no vegetable oils, no exceptions. The lifestyle also emphasizes exercise.
Warning
Diet creator Mike Anderson is a filmmaker, not a medical professional or nutritionist. Some may feel uncomfortable following diet and medical advice dispensed by someone who has no training in either. Always consult with your doctor or a medical professional before embarking on a diet plan.