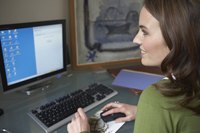 When you're deciding between online discount brokerage companies, consider more than just transaction fees. While that's an important component, other factors come into play, and whether a company is the right fit for you depends on your individual needs. Sharebuilder and Scottrade offer many of the same features, but differ in some aspects, including available tablet and phone apps.
Sharebuilder
Sharebuilder, a part of the financial services company Capital One, doesn't require clients to maintain a brokerage account minimum. As of 2014, Sharebuilder charged $6.95 per online trade, while a trade done with broker assistance cost $19.95. You can arrange for automatic mutual fund or exchange-traded funds investments, done on a specified day and a particular dollar amount. Besides your computer, Sharebuilder allows you to trade via your iPhone, Android device or Blackberry, or your iPad or Kindle Fire tablet.
Scottrade
Scottrade charged $7 per online stock or ETF fund trade as of 2014, with a broker-assisted trade costing $32. You must use a broker to place certain foreign or microcap -- penny stock -- trades. Open a Scottrade brokerage account with a minimum of $500. Scottrade doesn't offer automatic investing. In addition to your computer, you can trade via Android phone or iPad tablet.