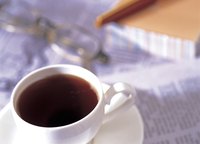 If you can't imagine getting through your day without the kick-start of a cup of joe, be aware that coffee can cause problems for people with high blood pressure, diabetes or heartburn, as well as those who are sensitive to caffeine. Caffeine is a drug, Johns Hopkins researcher Steven Meredith tells AARP. Low to moderate doses are safe but can still lead to caffeine addiction. When you try to cut back or quit cold turkey, you might experience headaches, mental cloudiness or fatigue.
Raises Blood Pressure
People who have hypertension should switch to decaf or avoid coffee entirely, according to Harvard T.H. Chan School of Public Health, as prolonged consumption of caffeinated coffee increases blood pressure.
Can Lower Insulin Sensitivity
Though research is mixed, those with diabetes who have trouble controlling blood glucose should switch to decaf. Caffeinated coffee could potentially decrease sensitivity to insulin and increase blood glucose levels.
Causes Digestive Issues
The only way to avoid the bad effects of coffee on heartburn is to avoid coffee entirely, as decaf increases stomach acid even more than caffeinated coffee does. Coffee also increases acid reflux by relaxing the sphincter muscle that keeps stomach acid where it's supposed to be. If you drink a lot of coffee, you're at a higher risk of developing gastritis, or inflammation of the stomach lining.