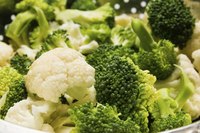 The cruciferous family of vegetables -- members include broccoli and cauliflower, cabbage, kale, Brussels sprouts and bok choy -- are famously good for you. Like many of their relatives, broccoli and cauliflower are brimming with essential nutrients and packed with beneficial phytochemicals. These organic plant compounds may help reduce the risk of certain kinds of cancer. Some compounds are antioxidants, protecting cells from damaging free radicals, and others exhibit hormone-like activity.
Isothiocyanates
Broccoli and cauliflower are excellent sources of glucosinolates, sulfur-containing compounds that break down into phytochemicals called isothiocyanates during chewing. Isothiocyanates inhibit enzymes that activate carcinogens, help eliminate carcinogens from your body and suppress tumor development. According to the Linus Pauling Institute at Oregon State University, isothiocyanates also help prevent esophageal, stomach, liver, lung, colon and breast cancer in animals. Broccoli and cauliflower contain similar amounts of glucosinolate, but you'll absorb more isothiocyanates from both vegetables by eating them raw or lightly steamed. Boiling vegetables can deplete their glucosinolate levels by as much as 60 percent.
Indole-3-Carbinol
Indole-3-carbinol is another beneficial phytochemical derived from the breakdown of glucosinolates in cruciferous vegetables like broccoli and cauliflower. Indole-3-carbinol reduces cancer risk by promoting the body's ability to eliminate harmful toxins and carcinogens. It may also protect against breast cancer and other estrogen-sensitive cancers. According to a study published in the December 2000 issue of "Journal of Nutrition," indole-3-carbinol helps prevent estrogen from promoting growth of human tumor cells in the laboratory. This phytochemical may help reduce the risk of other cancers as well. According to the Linus Pauling Institute, indole-3-carbinol may slow or stop the growth of pancreatic and prostate cancer cells in the laboratory.
Carotenoids
Broccoli contains several phytochemicals called carotenoids, including beta-carotene, lutein and zeaxanthin, which are all potent antioxidants. Broccoli is especially rich in lutein and zeaxanthin, which protect the retinas of your eyes from potentially damaging blue and ultraviolet light; eating a diet rich in lutein and zeaxanthin may also help decrease your risk of developing a potentially serious eye disorder called age-related macular degeneration. Traditional cauliflower -- which remains white because it's protected by thick, green cabbage-like leaves as it grows -- isn't a good source of carotenoids, but the orange variety is a fairly good source of beta-carotene.
Considerations
You'll be able to absorb more of the carotenoids in broccoli and orange cauliflower if you cook them and eat them with a small amount of fat. Heat breaks down the cell walls that contain carotenoids, and fat increases the rate at which the body can absorb them. Lightly steaming the vegetables and serving them with a bit of olive oil or another heart-healthy fat promotes carotenoid absorption, while preserving relatively high levels of the phytochemicals derived from glucosinolate.