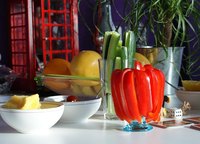 A healthy diet for anyone, including someone with diabetes, includes carbohydrates, proteins and fats. The key for a diabetic is to be consistent with what you consume and to keep your blood sugar within your target range.
Carbohydrates
Carbohydrates like breads, cereals and fruits raise blood glucose levels. Set a limit for breakfast of 45 to 60 carbs. A good breakfast would include a piece of toast, 2/3 cup of yogurt and a small piece of fruit plus a protein (lean meat or legumes).
Glycemic Index
The Glycemic Index assigns a value to food according to how high it raises your blood sugar. Foods low on the scale is best for breakfast. Try whole grain breads and cereals like barley, oats and whole wheat.
Portion Control
Portion control is vital for a healthy diet. Try to pick foods high in nutrients for the calories consumed. Oatmeal has more carbohydrates than chocolate, but is obviously the best breakfast choice.
Balance
According to the American Diabetes Association, a diabetic can eat everything a nondiabetic can eat, as long as there is a healthy balance between your diet and oral medications (or insulin). A nutritionist can help you create a plan that keeps your blood sugar steady without special meals.
Eating Out
You can eat breakfast at a restaurant as long as you choose well. Keep your nutritional goals in mind and order the less-processed choices--a plain bagel or an English muffin, cold cereal or plain scrambled eggs.