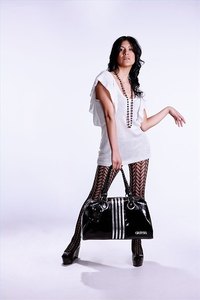 Teen fashions have become just as recognizable as adult fashions. With more teen idols starting their own clothing lines, the selections to choose from are endless. The days of matching two-piece sets are gone. Today's teens are much more fashion conscious.
2009 Teen Fashion Trends
The year may be 2009, however, the 1980s fashion era is back with a little twist. This year's teen fashions are fun, colorful and expressive. The return of the motorcycle jacket, plaid shirts, boyfriend and colored jeans are this year's teen fashion trends.
Teen Fall Fashions
This fall, teens are wearing layered, oversize tunics, skinny jeans in bold colors, and design-printed tights and miniskirts. Riding and ankle boots have also reemerged from the past. This year, there are many more styles to choose from, including boots adorned with silver studs, jewelry, buckles and belt straps.
Teen Celebrity Designers
Celebrity teen designer brands have become pop culture as more teen celebrities are creating their own clothing lines. Singer Avril Lavigne's clothing label "Abbey Dawn" is sold at Kohls with pieces for as little as $24. Actress Raven Symone's line, "That's So Raven" by Disney, for girls aged 7 to 16 is available only at Canadian Wal-Marts. Boy group the Jonas Brothers launched their collection "Jonas" for tween girls; retailers to carry the line include JC Penney, Sears, Kmart and Wal-mart.
Teen Fashion Websites
Teens access websites to find out the latest fashion trends, teen celebrity gossip and more. These sites include dailyfashion.com, Ellegirl.com, teenvogue.com and fashionicon.com.
Plus Size Teen Stores
The average size for American teenagers has increased. To keep up, designer houses have expanded their collections to included stylish clothing for plus size teens. Plus size clothing stores for tweens and teens include Alight.com, Bandlu.com and Hottopic.com