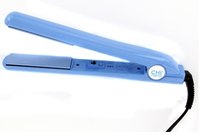 Ceramic flat irons are marketed as a damage-free way to straighten hair. While gentler than traditional flat irons, ceramic hair straighteners can cause damage. Iron quality and effective straightening techniques can decrease the amount of heat damage.
How It Works
Because of its ceramic plates, the tool heats quickly and distributes heat evenly throughout the hair. This helps seal moisture within the hair cuticle, decreasing heat damage. Non-ceramic metal plates heat unevenly, leaving "hot spots." Damage is likely to occur on the ends of the hair, but can happen to any part of the shaft.
How It Damages
Ceramic flat irons are used to straighten curly or wavy hair by applying heat and pressure to the hair. Damage can occur when the iron is held too long in one area or used too often, depriving the hair of moisture.
Types
The least damaging irons have ceramic plates coated and baked with hard layers of ceramics. Cheaper irons have a thin ceramic coating sprayed on that wears off quickly and causes more damage, both from the heating element and the rough texture of the plate.
Hair Condition
Hair should be in good condition before using any heat styling tool. Users with hair that is already damaged will risk further damage by using heat styling tools. Users should treat hair with a heat-protecting product before using any heat styling tool.
Warning
Ceramic irons get extremely hot. Use caution and follow manufacturer's directions to avoid hair damage or loss.