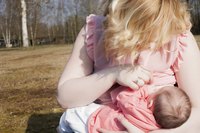 While it may be tempting to try taking fat burners to speed up post-pregnancy weight loss, there isn't sufficient evidence that most common dietary supplements used for weight loss work, according to a November 2004 article published in "American Family Physician." These fat-burning supplements also aren't necessarily safe for you and definitely aren't safe for your baby if you're breast-feeding. Check with your doctor before using any supplements.
Fat Burners Safety
Many medications and supplements you take while breast-feeding wind up in your breast milk and thus in your baby. This is why fat burners and other weight-loss supplements aren't recommended while breast-feeding. Three common ingredients in fat burners -- green tea, forskolin and garcinia, also called hydroxycitric acid -- all carry warnings that they're not safe for women who are nursing. Some fat burners also contain caffeine, which could cause your baby to have trouble sleeping, have a decreased appetite and be irritable.
Better Alternatives
A healthier weight-loss plan involves waiting until your baby is at least 2 months old and then cutting up to 500 calories per day from your diet. Don't eat fewer than 1,500 to 1,800 calories per day. Although this will result in a slow weight loss, this is a good thing. Losing weight too quickly, or more than 1.5 pounds per week, can cause your milk supply to decrease, interfering with breast-feeding. Breast-feeding itself can help you lose weight because it increases the number of calories you burn each day. Add exercise once your doctor OKs it, and you'll be more likely to lose more fat and less muscle, so you'll look your best once you reach your goal weight.