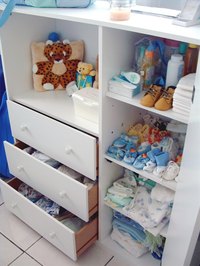 Newborn babies will need a few different types of clothing during their first few months of life, mostly for eating and sleeping in. These clothing items are some of the essentials for a newborn's wardrobe.
Onesies
After the umbilical stump falls off, the staple clothing in your newborn's wardrobe will be onesies, basic cotton tight-fitting shirts that snap under the diaper to stay on.
Pajamas
For the night, newborn babies need pajamas that are tight-fitting and fire-resistant. In addition, because putting blankets in the crib can be dangerous, you should get warm, footed pajamas, or consider a zip-in blanket pouch for sleeping.
Socks
Whether your climate is warm or cold, socks or booties are essential in a newborn's wardrobe because newborns usually have cold feet.
Hats
Little cotton hats will help keep your baby warm on the other end, although they won't always stay on unless they are tied under the chin.
Bibs
You can do a lot less laundry if you have a large supply of bibs, especially if your infant is prone to drooling and spitting up, as many are.