Approximately 60 percent of American adults restrict at least one nutritional item -- such as gluten or dairy -- from their diet, according to FoodManufacturing.com. Health issues and food allergies are possible reasons for dietary restrictions. For example, people with celiac disease or lactose intolerance must eliminate gluten or dairy products from their diet. Even if you're sensitive to both gluten and dairy, you have lots of healthy foods to choose from for a satisfying, balanced diet. If you're switching to a gluten-free diet, check with your physician to see if you need additional supplements.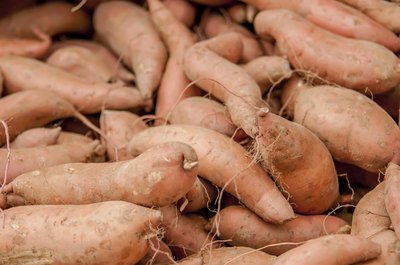 Avoid Foods That Contain Wheat and Milk
Many classic American dishes -- pizza, cheeseburgers, mac and cheese -- contain both gluten and dairy. As a natural component of wheat, gluten will be present in foods that include wheat flour. This includes crackers, breads, pastries, cookies, cakes, pasta, flour tortillas and cereals. Since wheat flour is often used as a thickening or stabilizing agent, other surprising sources of gluten could be gravy, sauces and salad dressings.
Dairy-containing foods include milk, yogurt, cream, ice cream, cheese, cottage cheese, sour cream, pudding and buttermilk. Unexpected sources of dairy potentially include chocolate, deli meats or caramel candies. Milk and wheat are among the top eight major food allergens and thus by law must be identified on a food label if present within a product.
Always check labels for the words "Contains Wheat, Milk" and take note of the ingredients list for key words as well.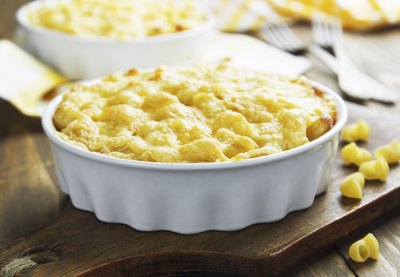 Increase Fruits, Vegetables and Whole Foods
Breads and cereals are a major source of B vitamins in the United States; as a result, switching to a gluten-free diet poses a potential risk for vitamin deficiencies. To prevent this, it will be important to increase servings of fruits and vegetables rich in B vitamins, such as greens, peas, tomatoes, potatoes, orange juice, broccoli, sweet potatoes, bananas and strawberries.
Poultry, beef and seafood are additional sources of vitamins and minerals, while avocados, tree nuts, seeds and olives are rich in heart-healthy unsaturated fats. Focus on a diet based on whole foods, as opposed to processed foods, to naturally reduce sodium intake and avoid gluten- and dairy-containing foods more easily.
Grains for a Gluten-Free Diet
Gluten-free grains include oats, amaranth, rice, corn, millet, quinoa, sorghum, teff and wild rice. These whole grains -- or products made from them -- are suitable alternatives to wheat products when restricting gluten from your diet.
Use water or a dairy alternative such as almond or coconut milk when preparing oatmeal, and use almond or rice milk on a cup-for-cup basis for cow's milk in baking recipes. Bake with gluten-free grains, such as rice or millet flour, instead of wheat flour.
Processed gluten-free products, such as gluten-free crackers, breads or pastries, may contain dairy, so always check labels carefully.
Gluten- and Dairy-Free Solutions
Use simple substitutions for gluten- or dairy-containing foods. For example, instead of placing sandwich ingredients between two pieces of bread, lay them on a large piece of iceberg lettuce and roll them into a lettuce wrap. Or stack your favorite sandwich fixings between two large rectangular pieces of red pepper. Romaine, iceberg or Bibb lettuce can substitute for flour tortillas for fajitas or taco fixings.
Remember to omit cheese if you're restricting dairy. For dessert, consider making a creamy coconut milk ice cream. Coconut or almond milk are also substitutions for coffee creamer. Spread peanut, almond or sunflower butter on a banana cut in half lengthwise.