If you're getting tired of drinking plain water all the time, tomato juice makes a good alternative. This savory vegetable beverage is low in calories and an excellent source of a number of nutrients that keep you healthy. As an acidic drink, however, tomato juice may not be the best choice for those with acid reflux.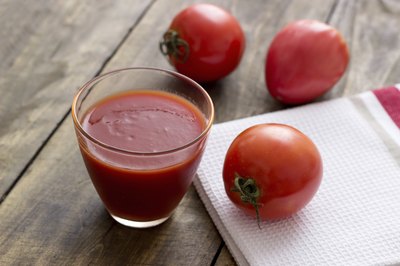 Low-Calorie Juice
It's not calorie-free like water, but tomato juice is low in calories compared to other types of juice. A 1-cup serving of the drink contains 41 calories, while the same serving of orange or apple juice contains about 120 calories. That's an 80-calorie difference.
With so many Americans struggling to manage their weight, finding ways to cut calories, like swapping your morning OJ for a glass of tomato juice, can help.
Rich in Antioxidants
Tomato juice is also rich in the antioxidants vitamin C and beta-carotene and is a better source of these nutrients than either orange or apple juice. A 1-cup serving of the juice meets 284 percent of the daily value for vitamin C and 22 percent of the daily value for vitamin A, mostly in the form of beta-carotene.
It's also an excellent source of the carotenoid antioxidant lycopene. This nutrient is not only responsible for making the juice red but, as a strong antioxidant, may reduce your risk of certain types of cancer and slow tumor growth, according to a 2014 article published in the Annals of the National Institute of Hygiene.
Upping your intake of antioxidant-rich foods like tomato juice may offer some protection against chronic illnesses such as heart disease and Alzheimer's, says the Harvard School of Public Health.
Good for Your Heart
Including more naturally rich sources of potassium in your diet may help lower your blood pressure, according to the American Heart Association. One cup of tomato juice meets 15 percent of the daily value for potassium, making it a good source of the essential mineral.
To get the most benefit, make sure you drink low-sodium juice. A cup of regular tomato juice may have more than 600 milligrams of sodium, meeting more than 25 percent of the daily value. Ideally, when reading labels for low-sodium foods, your juice should contain 5 percent of the daily value or less.
Additionally, seniors and people with kidney disease should talk to their doctor before adding tomato juice to their daily routine. Too much potassium in your diet may not be healthy.
Good Source of B Vitamins
The juice also contains a number of the B vitamins and meets more than 10 percent of the daily value for thiamin, riboflavin and folate. Both thiamin and riboflavin assist with turning the food you eat into energy. Folate helps metabolize protein, is needed to make red blood cells and is especially important for women who can become pregnant because it helps prevent neural tube defects in their children.