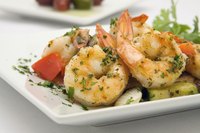 Shrimp is one of the 10 most consumed types of fish and shellfish in the United States, as well as one of the types of seafood that is lowest in mercury. It provides significant amounts of a number of vitamins and minerals but is low in fat and calories. Shrimp does contain relatively high amounts of sodium and cholesterol, however, so you may want to eat other types of low-mercury seafood more often.
Calories and Macronutrients
A 3-ounce serving of shrimp cooked in moist heat, or about 16 large shrimp, contains 101 calories, 19.4 grams of protein, 1.3 grams of carbohydrates and 1.5 grams of fat, including 0.4 gram of saturated fat. This serving of shrimp also provides 255 milligrams of essential omega-3 fats. The Academy of Nutrition and Dietetics recommends getting at least 500 milligrams of the omega-3 fats EPA and DHA, the types found in seafood, per day. These fats help promote heart health and healthy brain development. Avoid breaded and fried shrimp, as the same amount contains 206 calories and 10.4 grams of fat.
Vitamin Content
You'll get 24 percent of the daily value for vitamin B-12, 11 percent of the DV for niacin and 10 percent of the DV for vitamin B-6 when you eat a 3-ounce serving of shrimp. You need vitamin B-12 for forming DNA and red blood cells. Niacin helps turn the food you eat into energy, and vitamin B-6 is important for proper immune system and nervous system function.
Mineral Makeup
Each 3-ounce serving of cooked shrimp has 60 percent of the DV for selenium, 26 percent of the DV for phosphorus and 11 percent of the DV for copper. Selenium is necessary for producing DNA and proper immune function. You need phosphorus for forming bones and storing energy, and copper is important for forming red blood cells and keeping your bones healthy.
Sodium and Cholesterol Considerations
Shrimp is high in sodium, with each 3-ounce serving providing 805 milligrams, or 34 percent of the DV. Most Americans already get too much sodium from their diet, which increases the risk for high blood pressure. Although saturated fat is more responsible for increases in blood cholesterol levels than dietary cholesterol is, cholesterol from food can still increase your cholesterol levels. Each serving of shrimp contains 179 milligrams of cholesterol, or 60 percent of the DV. Limit other high-cholesterol foods you eat on days when you eat shrimp so you don't end up getting too much cholesterol.