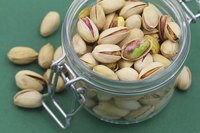 They may be small, but pistachios come packed with nutrition. When included in a healthy diet, the sweet green nuts may improve cardiovascular health, aid in blood sugar control and help promote a healthy weight, according to peer-reviewed studies published in The New England Journal of Medicine and Nutrition Review.
Where the Calories Come From
A 1-ounce serving of pistachios, or about 49 kernels, contains 160 calories, 6 grams of protein, 13 grams of fat, 8 grams of carbs and 3 grams of fiber.
While most of the calories in the pistachio nut come from its fat content, it's primarily in the form of monounsaturated and polyunsaturated fats. The Centers for Disease Control and Prevention says most of the fat in your diet should come from these unsaturated fats. The CDC even suggests snacking on 1 ounce of nuts a day to increase your intake of healthy fats. When these fats are eaten in place of saturated fat, they may help reduce risk of heart disease and improve cholesterol levels, according to the Dietitians Association of Australia.
Some Vitamin A and a Few B Vitamins
The pistachio nut is not a significant source of many vitamins, but it does contain a small amount of vitamin A and is a good source of thiamin and vitamin B-6 A 1-ounce serving meets 2 percent of the daily value for vitamin A, 16 percent of the DV for thiamin and 24 percent of the DV for vitamin B-6.
Thiamin assists with the release of energy from food, and vitamin B-6 works on the metabolism of protein.
The nut also contains a small amount of other B vitamins -- meeting less than 5 percent of the daily value -- including folate, riboflavin, niacin and pantothenic acid.
A Variety of Minerals
Snacking on pistachio nuts can up your intake of a number of different minerals, including calcium, iron, magnesium, zinc and selenium. Although they don't contain high amounts of any of these minerals, the nuts are a good source of copper and manganese.
These two trace minerals are essential for good health. Copper is needed to keep blood vessels and bones healthy and assists iron in making hemoglobin. Manganese helps metabolize carbs, protein and fat and also keeps bones healthy.
Benefits of Phytonutrients
Not only are pistachio nuts a good source of a number of vitamins and minerals, but they are also rich in phytonutrients, including carotenoids, anthocyanins, lignans and flavonoids. Phytonutrients are substances found in plant foods that are thought to be health-promoting. The phytonutrients in the pistachio may help reduce inflammation, improve brain health and protect your heart from disease.