Eating breakfast is the best way to kick-start your morning. Think of your body as a car -- breakfast is the fuel it needs to move through the day. But just as your car needs the right fuel to perform, so does your body. Certain foods are better at providing long-lasting energy than others. Energy-boosting breakfast foods include oats and other whole grains, lean protein, fruits and vegetables. Keep in mind that a healthy breakfast includes a combination of all three macronutrients -- protein, healthy fats and energy-boosting carbohydrates.
Whole Grains
Carbohydrates, like oats and other whole grains, are the main energy source for the body. All carbohydrates break down to become blood sugar, which provides the body with energy for activities. Whole grains contain dietary fiber, which gives you a feeling of fullness to keep you energized longer than processed grains such as sugary cereals and pastries. They are also a good source of plant protein, which increases the feeling of satiety and keeps energy levels high. For energy in the morning, enjoy cooked oats, quinoa, millet or amaranth with berries.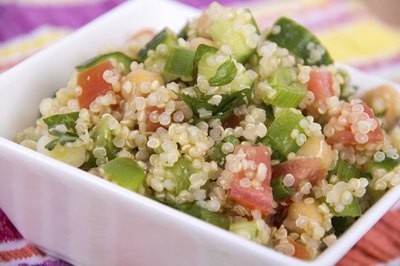 Lean Protein
Incorporating lean protein into a breakfast is another way to provide long-lasting energy throughout the day. Lean protein comes in many breakfast-appropriate forms, such as eggs, yogurt, milk, beans, tofu, turkey and chicken. A breakfast full of whole grains and lean protein will make sure you feel energized and satiated at the start of your day. Try combining whole grains and protein in combinations such as oatmeal and milk; whole-wheat toast and eggs; brown rice and black beans; or low-fat yogurt with granola.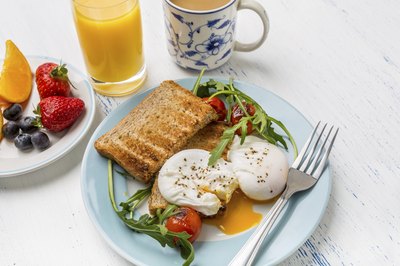 Naturally Sweet Fruit
While many breakfast options on the market are high in calories and sugar, fruit is a nutrient-dense food low in calories and contains only natural sugar. Like whole grains, oats and protein, fruit also contains fiber as well as water to help you feel fuller longer. In addition, fruit is packed with vitamins and minerals to give the body the energy it needs in the morning. Try adding some fruit to your morning oatmeal or combine fruit, milk and yogurt in a blender to make a healthy smoothie.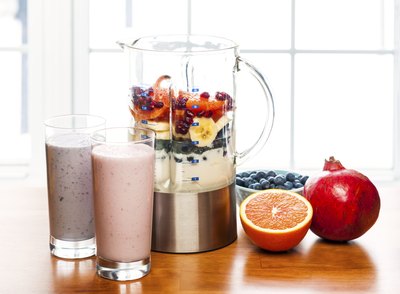 Savory Vegetables
Add vegetables to any savory breakfast for a quick energy boost. Vegetables are high in fiber to keep you feeling full until lunchtime. They also provide folate, vitamin A and vitamin C, which impart many health benefits, and are a low-calorie alternative to higher-fat foods. The next time you're making an omelette, swap out the ham and cheese for fresh peppers and onions.